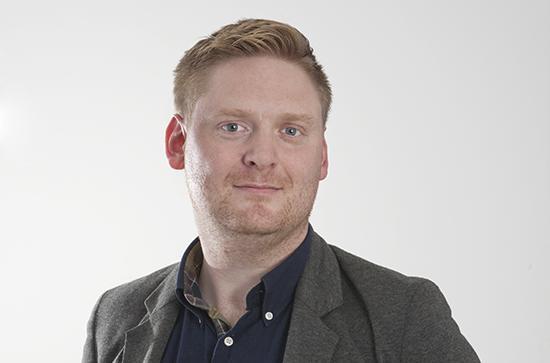 Trevor Vaugh is faculty at Maynooth University and the director of the award-winning Masters in Design Innovation (MScDI). Trevor is as expert in Design-driven innovation process, and he regularly works with public and private organisations in this area. Prior to entering academia, Trevor helped develop a number of disruptive surgical innovations, and with a portfolio of over 45 patents he is one of the most active inventors in the country. His ground-breaking work on the development of scarless surgery for Olympus, helped see it recognised as one of the Cleveland clinic's top 10 innovations of 2009.

As a partner and founder of the innovation consultancy Actionable, he helps clients understand the role of design as an agent of discovery, change and a mediator between humanity and technology. In the past number of years he has delivered consultancy and mentoring for clients such as Olympus, Boston scientific, Openet, Musgraves, the IDA and delivered programmes for Irish Times training, the AIB start-up academy and the IRDG.
Trevor is a board member and co-editor of Iterations design journal. In
both his academic and practitioner roles, he champions the interdisciplinary nature of design, and applies design thinking and action research to areas such as business, education, policy and healthcare.



Trevor's research occurs at the intersection of Design, Innovation and Anthropology. He is especially interested in;
(a) The role of strategic design in developing radical innovation
(b) Design thinking as a core organisational competency
(c) Rapid experimentation and prototype development
(d) Design as an agent of liminality, Liminality as an underutilised opportunity for change initiatives.
| | Project | Role | Description | Start Date | End Date |
| --- | --- | --- | --- | --- | --- |
| | Mi:Lab - The Maynooth Innovation Lab | Principal Investigator | | 01-JAN-19 | 31-JUL-22 |
 
Year
Publication
2018
'Lessons learned: Sports coach mentor as design thinker'
Vaugh, T, Moles, J, Chambers, C.F (2018) 'Lessons learned: Sports coach mentor as design thinker' In: Chambers, C.F (eds). Learning to Mentor in Sports Coaching. London: Routledge. [Details]
2018
'What is design thinking? A case study of using design thinking in a sports coaching context'
CUTBERTH, B., VAUGH, T., CHAMBERS, F.C. (2018) 'What is design thinking? A case study of using design thinking in a sports coaching context' In: Chambers, C.F (eds). Learning to Mentor in Sports Coaching. London: Routledge. [Details]
 
Year
Publication
2019
'How Irish design consultancies align with Ireland's Innovation 2020 priorities: a preliminary study'
Keirnan, A., Robbins, P., Devitt, F., Vaugh, T., Ryan, M. and Koffel, R., (2019) 'How Irish design consultancies align with Ireland's Innovation 2020 priorities: a preliminary study'. ITERATIONS Design Research and Practice Review, (07) [DOI] [Details]
2019
'Design-driven Entrepreneurship An interview with four Irish designer-founders'
Ryan, M. and Vaugh, T. (2019) 'Design-driven Entrepreneurship An interview with four Irish designer-founders'. ITERATIONS Design Research and Practice Review, (07) [DOI] [Details]
2019
'Design thinking, the driver of innovation in Irish Industry An interview with Denis Hayes, Managing Director of the IRDG'
Ryan, M., Vaugh, T (2019) 'Design thinking, the driver of innovation in Irish Industry An interview with Denis Hayes, Managing Director of the IRDG'. ITERATIONS Design Research and Practice Review, (07) [DOI] [Details]
2015
'Getting the right design or getting the design right; An observation of 18 projects progressing through a structured design thinking process'
Vaugh, Trevor and Ryan, Martin (2015) 'Getting the right design or getting the design right; An observation of 18 projects progressing through a structured design thinking process'. ITERATIONS Design Research and Practice Review, 1 (1):14-21 [IR Link] [Details]
Year
Publication
2018
A Design-Led Approach to Innovation in the Irish Food Industry
Trevor Vaugh (2018) A Design-Led Approach to Innovation in the Irish Food Industry . In: Carole Bilson eds. Academic Design Management Conference ADMC18 [Details]
2017
Unlocking Design Thinking's Potential
Devitt.F, Ryan.M, Robbins.P, Vaugh.T (2017) Unlocking Design Thinking's Potential . In: The ISPIM eds. The ISPIM Innovation Summit – Building the Innovation Century Melbourne, Australia, , 10-DEC-17 - 13-DEC-17 [Details]
Year
Publication
2017
Disrupting Ourselves Workshop.
Trevor Vaugh (2017) Disrupting Ourselves Workshop. [Other], Maastricht Disrupt, Maastricht, Netherlands , 23-SEP-17 - 24-SEP-17 [Details]
2017
Design as an Agent of Transition. Transition, the Realm of Pure Possibility.
Trevor Vaugh (2017) Design as an Agent of Transition. Transition, the Realm of Pure Possibility. [Keynote Address], Maastricht Disrupt, Maastricht, Netherlands , 23-SEP-17 - 24-SEP-17 [Details]
2017
Design as an agent of Liminality.
Trevor Vaugh (2017) Design as an agent of Liminality. [Oral Presentation], Defuse, Dublin , 07-NOV-17 [Details]
2016
Design Thinking for innovation & growth - IRDG.
trevor vaugh (2016) Design Thinking for innovation & growth - IRDG. [Oral Presentation], Visualisation In Design Thinking, Dublin , 01-JUN-16 - 02-MAY-16 [Details]
2016
eHealth is a rapidly developing area, promising to deliver healthcare more effectively and efficiently while empowering patients through technology.
Trevor Vaugh (2016) eHealth is a rapidly developing area, promising to deliver healthcare more effectively and efficiently while empowering patients through technology. [Oral Presentation], Connect 2016 - eHealth, Maynooth , 27-MAY-18 - 27-MAY-18 [Details]
2015
Design Thinking For Business Growth.
trevor vaugh (2015) Design Thinking For Business Growth. [Oral Presentation], Mapping The Experience Journey, Dublin [Details]
2015
Getting The Right Design.
Martin Ryan, Trevor Vaugh (2015) Getting The Right Design. [Oral Presentation], Faultlines - Bridging Knowledge Spaces, Carlow Institute of Technology [Details]
2015
Faultlines - Bridging Knowledge Spaces.
trevor vaugh (2015) Faultlines - Bridging Knowledge Spaces. [Published Abstract], Getting The Right Design, Carlow [Details]
2013
Forge Product Design Forum.
trevor vaugh (2013) Forge Product Design Forum. [Oral Presentation], A Career As A Design Innovator, Dublin Castle [Details]
Year
Publication
2017
Reflecting on the first three years of the MSc in Design innovation at Maynooth University.
Trevor Vaugh (2017) Reflecting on the first three years of the MSc in Design innovation at Maynooth University. Blog [Details]
Year
Publication
2016
Surgical device.
Butler, John and Bonadio, Frank and Vaugh, Trevor and McManus, Ronan Bernard and MacNally, Shane Joseph and Deegan, Catherine and Cuschieri, Alfred and Reid, Alan (2016) Surgical device. Technical Publication [Details]
2015
Wound retractor device.
Bonadio, Frank and Butler, John and Vaugh, Trevor and MacNally, Shane Joseph and Reid, Alan (2015) Wound retractor device. Technical Publication [Details]
2015
Pneumoperitoneum device.
Shibley, Kirk Anthony and Bonadio, Frank and Vaugh, Trevor and MacNally, Shane Joseph and Halpin, Lucy Dolores and Williams, Stephen (2015) Pneumoperitoneum device. Technical Publication [Details]
2014
Instrument access device.
Bonadio, Frank and Vaugh, Trevor and McManus, Ronan B and Macnally, Shane J and Butler, John (2014) Instrument access device. Technical Publication [Details]
2014
Pneumoperitoneum device.
Shibley, Kirk Anthony and Bonadio, Frank and Vaugh, Trevor and MacNally, Shane Joseph and Halpin, Lucy Dolores and Williams, Stephen (2014) Pneumoperitoneum device. Technical Publication [Details]
2014
Wound retractor system.
Butler, John and Vaugh, Trevor and Bonadio, Frank (2014) Wound retractor system. Technical Publication [Details]
2014
Method for performing surgical laparoscopic procedure on uterus of patient by surgeon, involves inflating bag to create artificial pneumoperitoneum that extends abdomen and provides additional working and viewing space.
Bonadio, Frank and Halpin, LD and MacNally, Shane and Shibley, KA and Vaugh, Trevor and Williams, S (2014) Method for performing surgical laparoscopic procedure on uterus of patient by surgeon, involves inflating bag to create artificial pneumoperitoneum that extends abdomen and provides additional working and viewing space. Technical Publication [IR Link] [Details]
2014
Inflatable artificial pneumoperitoneum bag has length and width, where artificial pneumoperitoneum bag neck portion is provided with first end and second end, where first end forms bag opening.
Bonadio, Frank and Halpin, LD and MacNally, Shane and Shibley, KA and Vaugh, Trevor and Williams, S (2014) Inflatable artificial pneumoperitoneum bag has length and width, where artificial pneumoperitoneum bag neck portion is provided with first end and second end, where first end forms bag opening. Technical Publication [IR Link] [Details]
2014
Wound retractor.
Bonadio, Frank and Butler, John and Deegan, Catherine and Vaugh, Trevor (2014) Wound retractor. Technical Publication [Details]
2014
Wound retractor device.
Bonadio, Frank and Vaugh, Trevor and Butler, John (2014) Wound retractor device. Technical Publication [Details]
2013
Instrument access device for use during laparoscopic surgery to facilitate instrument access to insufflated abdominal cavity has instrument receiver with cannula that extends in use through incision protected by retractor member.
Bonadio, Frank and Vaugh, Trevor (2013) Instrument access device for use during laparoscopic surgery to facilitate instrument access to insufflated abdominal cavity has instrument receiver with cannula that extends in use through incision protected by retractor member. Technical Publication [IR Link] [Details]
2013
Pneumoperitoneum device for tissue isolation and/or extraction in laparoscopic procedure, has inflatable bag having opening to receive tissue.
Shibley, KA and Bonadio, Frank and Vaugh, Trevor and MacNally, Shane and Halpin, LD and Williams, S (2013) Pneumoperitoneum device for tissue isolation and/or extraction in laparoscopic procedure, has inflatable bag having opening to receive tissue. Technical Publication [IR Link] [Details]
2013
Instrument access device.
Bonadio, Frank and Vaugh, Trevor and McManus, Ronan B and Macnally, Shane J and Butler, John (2013) Instrument access device. Technical Publication [Details]
2013
Apparatus for inserting a surgical device at least partially through a wound opening.
Butler, John and Vaugh, Trevor and Bonadio, Frank and Deegan, Catherine and Macnally, Shane J (2013) Apparatus for inserting a surgical device at least partially through a wound opening. Technical Publication [Details]
2012
Wound retractor device.
Bonadio, Frank and Butler, John and Vaugh, Trevor and MacNally, Shane Joseph and Reid, Alan (2012) Wound retractor device. Technical Publication [Details]
2012
Pneumoperitoneum device.
Shibley, Kirk Anthony and Bonadio, Frank and Vaugh, Trevor and MacNally, Shane Joseph (2012) Pneumoperitoneum device. Technical Publication [Details]
2012
Instrument Access Device.
Bonadio, Frank and Vaugh, Trevor and McManus, Ronan B and Macnally, Shane J and Mulhall, Michael (2012) Instrument Access Device. Technical Publication [Details]
2012
Instrument access device.
Bonadio, Frank and Butler, John and Vaugh, Trevor and Macnally, Shane J (2012) Instrument access device. Technical Publication [Details]
2011
Instrument access device.
Bonadio, Frank and Butler, John and Vaugh, Trevor (2011) Instrument access device. Technical Publication [Details]
2011
Wound retractor.
Bonadio, Frank and Butler, John and Deegan, Catherine and Vaugh, Trevor (2011) Wound retractor. Technical Publication [Details]
2011
Wound retractor system.
Butler, John and Vaugh, Trevor and Bonadio, Frank (2011) Wound retractor system. Technical Publication [Details]
2011
Instrument access device used for laparoscopic surgery and surgical procedures, has instrument receiver that receives instrument, and connector extends between proximal element and instrument receiver.
Bonadio, Frank and Vaugh, Trevor and McManus, Ronan and MacNally, Shane (2011) Instrument access device used for laparoscopic surgery and surgical procedures, has instrument receiver that receives instrument, and connector extends between proximal element and instrument receiver. Technical Publication [IR Link] [Details]
2010
Instrument access device for instrument access system, has connector member connecting proximal member with instrument seals, where proximal member and connector member are configured to retain proximal end of retractor member.
Bonadio, Frank and Vaugh, Trevor and McManus, Ronan and MacNally, Shane (2010) Instrument access device for instrument access system, has connector member connecting proximal member with instrument seals, where proximal member and connector member are configured to retain proximal end of retractor member. Technical Publication [IR Link] [Details]
2010
Instrument access system.
Bonadio, Frank and Vaugh, Trevor and McManus, Ronan B and Macnally, Shane J and Butler, John (2010) Instrument access system. Technical Publication [Details]
2010
Instrument Access Device.
Bonadio, Frank and Vaugh, Trevor and McManus, Ronan B and Macnally, Shane J and Mulhall, Michael (2010) Instrument Access Device. Technical Publication [Details]
2009
Device.
Bonadio, Frank and Vaugh, Trevor (2009) Device. Technical Publication [Details]
2009
Holding device for use during eg laparoscopic procedure, has two gripping units, where one of gripping unit grips organ and other gripping unit mounts holding device to desired location, and device is mountable to interior of wall.
Bonadio, Frank and Vaugh, Trevor (2009) Holding device for use during eg laparoscopic procedure, has two gripping units, where one of gripping unit grips organ and other gripping unit mounts holding device to desired location, and device is mountable to interior of wall. Technical Publication [IR Link] [Details]
2009
Surgical sealing device for providing hand or instrument access during surgical procedure has sealing valve with sealing members moved in open configuration which facilitates passage of object through sealing valve to access internal cavity.
Bonadio, Frank and Butler, John and Macnally, Shane and Vaugh, Trevor (2009) Surgical sealing device for providing hand or instrument access during surgical procedure has sealing valve with sealing members moved in open configuration which facilitates passage of object through sealing valve to access internal cavity. Technical Publication [IR Link] [Details]
2009
Wound retractor device.
Bonadio, Frank and Butler, John and Vaugh, Trevor and MacNally, Shane Joseph and Reid, Alan (2009) Wound retractor device. Technical Publication [Details]
2008
Surgical device ie wound retractor device, inserting apparatus, has separate holder element holding surgical device in low-profile configuration, and formed separately from conveying device.
Bonadio, Frank and Butler, John and Vaugh, Trevor and Macnally, Shane (2008) Surgical device ie wound retractor device, inserting apparatus, has separate holder element holding surgical device in low-profile configuration, and formed separately from conveying device. Technical Publication [IR Link] [Details]
2008
Hand and instrument access device.
Bonadio, Frank and Vaugh, Trevor and Butler, John and Macnally, Shane J (2008) Hand and instrument access device. Technical Publication [Details]
2008
Instrument insertion device.
Bonadio, Frank and Butler, John and Vaugh, Trevor (2008) Instrument insertion device. Technical Publication [Details]
2008
Instrument access device for use during eg aparoscopic choecystectomy procedure, has distal anchoring ring provided to locate within wound interior, and retractor with sleeve extending from ring to retract sides of wound opening.
Bonadio, Frank and Butler, John and Vaugh, Trevor and Macnally, Shane (2008) Instrument access device for use during eg aparoscopic choecystectomy procedure, has distal anchoring ring provided to locate within wound interior, and retractor with sleeve extending from ring to retract sides of wound opening. Technical Publication [IR Link] [Details]
2007
Instrument access device.
Vaugh, Trevor and Butler, John and MacNally, Shane and Bonadio, Frank (2007) Instrument access device. Technical Publication [Details]
2007
Surgical device.
Butler, John and Vaugh, Trevor and Bonadio, Frank (2007) Surgical device. Technical Publication [Details]
2007
Apparatus for inserting a surgical device at least partially through a wound opening.
Bonadio, Frank and Butler, John and Vaugh, Trevor and MacNally, Shane Joseph (2007) Apparatus for inserting a surgical device at least partially through a wound opening. Technical Publication [Details]
2007
Surgical devices seal, has two sealing members each having accessway that provide access from one side of sealing members to other side of members, and biasing unit biasing two sealing members towards one another.
Butler, John and Vaugh, Trevor and Bonadio, Frank and Mcmanus, Ronan and Macnally, Shane and Cuschieri, Alfread and Reid, Alan and others (2007) Surgical devices seal, has two sealing members each having accessway that provide access from one side of sealing members to other side of members, and biasing unit biasing two sealing members towards one another. Technical Publication [IR Link] [Details]
2007
Wound retractor for use during laparoscopic surgery, has connecting member extending between proximal and distal members, and release member stowed away before release member is required to be used to release distal member.
Bonadio, Frank and Butler, John and Deegan, C and Vaugh, Trevor (2007) Wound retractor for use during laparoscopic surgery, has connecting member extending between proximal and distal members, and release member stowed away before release member is required to be used to release distal member. Technical Publication [IR Link] [Details]
2007
Cannula has lip seal movingly coupled to proximal section, to facilitate relative movement of instrument shaft between seal and proximal section and to maintain sealing engagement between shaft and proximal portion.
Bonadio, Frank and Vaugh, Trevor (2007) Cannula has lip seal movingly coupled to proximal section, to facilitate relative movement of instrument shaft between seal and proximal section and to maintain sealing engagement between shaft and proximal portion. Technical Publication [IR Link] [Details]
2007
Instrument access device for use in accessing a wound interior has an opening portion for partly opening a seal to allow insertion of an instrument in which the seal is reinforced upon engagement with the instrument.
Vaugh, Trevor and Butler, John and Macnally, Shane and Bonadio, Frank (2007) Instrument access device for use in accessing a wound interior has an opening portion for partly opening a seal to allow insertion of an instrument in which the seal is reinforced upon engagement with the instrument. Technical Publication [IR Link] [Details]
2006
Surgical instrument.
Bonadio, Frank and Butler, John and Vaugh, Trevor and Deegan, Catherine and MacNally, Shane (2006) Surgical instrument. Technical Publication [Details]
2005
Seal for a cannula.
Bonadio, Frank and Vaugh, Trevor (2005) Seal for a cannula. Technical Publication [Details]
2005
A surgical sealing device.
Butler, John and Vaugh, Trevor and Bonadio, Frank (2005) A surgical sealing device. Technical Publication [Details]
2005
Wound retractor device.
Bonadio, Frank and Vaugh, Trevor and Butler, John and Deegan, Catherine (2005) Wound retractor device. Technical Publication [Details]
2004
Surgical sealing device.
Vaugh, Trevor and Butler, John and Bonadio, Frank (2004) Surgical sealing device. Technical Publication [Details]
2003
Surgical device.
Bonadio, Frank and Butler, John and Vaugh, Trevor and MacNally, Shane and Reid, Alan (2003) Surgical device. Technical Publication [Details]
2003
Device.
Butler, John and Bonadio, Frank and Vaugh, Trevor and McManus, Ronan and MacNally, Shane and Deegan, Catherine and Cuschieri, Alfred and Reid, Alan (2003) Device. Technical Publication [Details]
2002
Device.
Butler, John and Bonadio, Frank and Bell, Duncan and Woods, Lisa and Vaugh, Trevor (2002) Device. Technical Publication [Details]
| | Year | Title | Awarding Body |
| --- | --- | --- | --- |
| | 2016 | Postgrad Ireland 'Best New Course 2016' for the MSc in Design innovation | Postgrad Ireland |
| | 2016 | IDI Collaborative Award for Iterations Design & Practice review | Institute of Designers of Ireland |
| | 2009 | Cleveland clinic's top 10 innovations (ASC/Olympus) | Cleveland clinic |
Professional Associations
| | Association | Function | From / To |
| --- | --- | --- | --- |
| | Anthropological Association of Ireland | Member | 01-MAY-16 / |
| | Institute of Designers in Ireland | Member | 01-JAN-12 / |
PD101 Creative thinking & Design
PD215 Usability, Ergonomics and Aesthetics
PD307 Design Processes & Projects
PD402B Individual design project
PD608 Applied Innovation lab