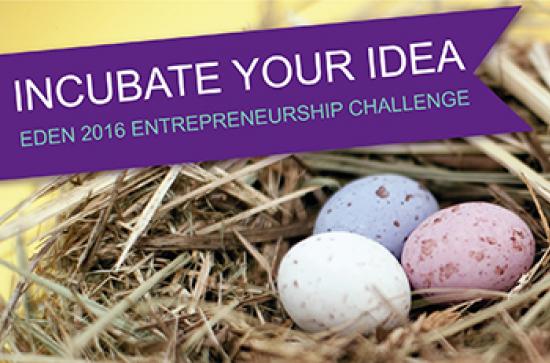 Wednesday, February 24, 2016 -

16:00

to

18:00
Phoenix Boardroom, Phoenix Restaurant, North Capmus
If you've been struck with an idea that, with the right support and development, might just be the basis for a successful business, we'd like to hear from you. The search is now officially on for Maynooth University's best student business idea. This is the first call for the 2016 Student Entrepreneurship Challenge. Maynooth University has a very proud tradition of student enterprise and this competition is entering its 7th year. Some of our previous winners have gone on to become prominent and successful entrepreneurs. (click here to see a video of last year's final)

If you'd like to be involved, we'd love to work with you. First, you don't have to have a highly developed idea that is almost market-ready. On the contrary, ideas are generally born raw and unfinished and that's where EDEN comes in, to help you develop your idea. It's the spark of original creativity that we want to promote and encourage. You can be an individual or you can enter as a team.

The first step, even if you have only a mild interest, is to come along to our brief but exciting launch event in Phoenix Boardroom on February 24th at 4pm – we promise free coffee and biscuits and we'll explain all the details of the competition for this year. You can use our challenge as a springboard to entering your idea to national student enterprise competitions and we will have speakers from Alltech and Enterprise Ireland on the day.

Between now and May, we have a series of workshops and 'creative-café's' that are designed to help develop and strengthen your idea. For details of the dates, topics and times, we have put it on a Moodle page for you. Please enrol yourself on The Eden Centre Moodle page to find out more. Keep you eye on the Eden Centre's homepage for extra details.