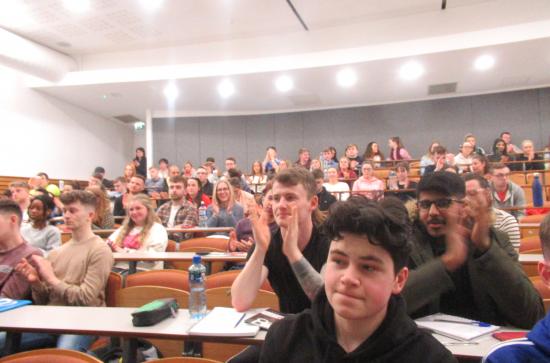 Thursday, March 5, 2020 - 12:30
On Thursday 27th February, Maynooth University welcomed the President of Chartered Accounting Ireland, Conall O'Halloran to the campus to meet with both final year accounting and non-accounting students. Conall enthralled the audience with the story of his professional journey from a UCC Engineering Graduate to KPMG Partner and President of Chartered Accountants Ireland.
Conall was accompanied by Shannan Breagy, Maynooth University graduate (BSc Biological and Biomedical) working as a Financial Services Audit Trainee at KPMG and training to become a Chartered Accountant. Shannon was enthusiastic about the opportunities her science background, combined with an ACA professional qualification, will offer her in the future. Anastasia Myachina, Client Relationship Executive at CAI brought students through the flexibility of the qualification route and the opportunities the qualification offers internationally.
Conall, Shannon and Anastasia were accompanied by Ronan O'Loughlin, Director of Education at CAI who is always a welcome visitor to Maynooth and a huge support to our students.