Bláthnaid Conroy Murphy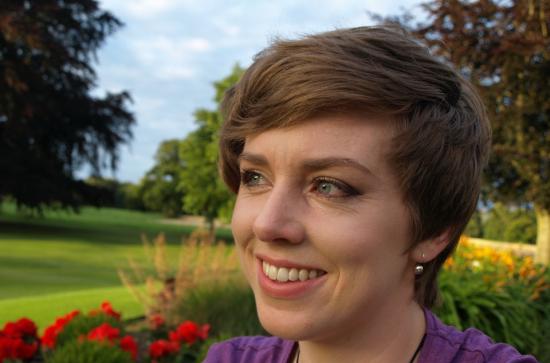 Freelance Musician
Self Employed
Ireland
2009
It's hard to pick out just one highlight of my time at Maynooth because I enjoyed so many aspects of the whole experience. I loved in particular singing plainchant under the guidance of Dr. John O'Keeffe, and in general, getting to perform in many different types of ensembles. The music degree gave us the space and time to look at a varied range of musical subjects, something you don't have as much time to do in real life.
I was very lucky to live on campus as well, which allowed me a lot of fun time with friends! The campus itself, particularly the south campus, was incredibly beautiful, and I used to spend time walking around in the frost taking photos of the scenery of nature.
My favourite thing was walking past that amazing tree in St. Joseph's square during autumn, when the leaves would be all shades of reds and yellows!
I won an entrance scholarship based on my Leaving Cert points, which granted me a place in the campus accommodation and €1000.
I was a member of the Chamber Choir and the Choral Society. We got to sing in the famous Carol Service at Christmas time, which of course is a wonderful event to be a part of.
I also sang in Maynooth Early Music Ensemble which performed both Medieval and Renaissance music. The highlight of this group was singing Allegri's Miserere in the beautiful Chapel on the South Campus.
I enjoyed the use of the sports and fitness facilities on the North Campus. I was a member of the Yoga club and attended classes there.

Maynooth gave me a different experience of University from the majority of my peers from school. Since we were all from Dublin city, most people went to Universities in the city and lived at home. I was lucky enough to get the chance to move away from home and have my unique college life. I think also the fact that Maynooth University is situated in a small town, gives you a healthy sense of isolation and the ability to concentrate on and immerse yourself totally in what you're studying.
Time away from home is great because it gives you a chance for some personal growth as well. You have to learn how to look after yourself; cook and clean, and deal with other people that perhaps don't clean... All good things to learn!
I found the people of Maynooth and the University staff to be quite kind and caring, and I felt the college wasn't so big that you became anonymous. Of course, the music department was small, which I think made it easier to get to know our peers and professors. I made some great friends during my time here. I also really enjoyed the beautiful grounds of the college. You are surrounded by the serenity of nature, which is a lovely place to relax and go for a walk when you need to clear your mind after some intense studying.
I learned a lot about what I was and wasn't good at in terms of subject choice, and I think that's important to know in life.
In terms of musicality, the best learning I did was in John O'Keefe's Plain Chant Performance module. He taught me how to really learn a song, how to get to the essence of the meanings of the words, and how to embody them in performance. It was quite peculiar and profound, but it really has had an impact on me to this day.

If you're interested in music, it's a fantastic degree to do; better still if you already have some musical education and instrumental ability under your belt. When I did my degree there was a wide range of subjects available in different areas, whether it was essay based subjects, music theory, composition, computer music or performance. Because of this, you can tailor the degree to suit your strengths.
As with any degree nowadays, don't be expecting to be handed a job on a plate when you walk out of college. You will have skills that will be useful and adaptable for many jobs, but you have to know your strengths and be able to market them and promote yourself a lot. I have read that people with music degrees are among the most employable of all, because they learn self-management, team work, business and customer awareness, problem solving, communication, numeracy, and IT skills (http://www.theguardian.com/education/2013/oct/11/music-students-employab...).
Music is universal and gives you the opportunity to relate to people all over the world. I have travelled the globe through my music and have made connections with people everywhere because of it. I joined the Irish vocal ensemble Anúna in Ireland, through which I met The Wiggles, who subsequently invited me to join their performing cast and move to Australia and tour internationally with them. My music work has brought me to Japan, China, USA, Canada, Singapore, New Zealand, Iceland, Holland, Belgium, Germany, England and of course all over Ireland.
My final advice would be to follow your own interests and work hard at perfecting what you love doing.
My career path has been a long one, beginning when I was just two years old.
When I was a baby and young child, I went to a minders' house, as both my parents worked. My minders' daughter, Katherine, at the time was studying for her performance diploma in piano and my cot was located in the piano room, so I spent many hours listening to her practicing. Story has it, that as soon as I could reach the keys, I began playing one of her pieces at pitch by ear. Thankfully, she recognised my talent and began giving me piano lessons from the age of two.
At the age of five, my parents sent me to the Conservatory of Music and Drama, DIT, where I began studying piano with Darina Gibson, and some years later, Pádhraic Ó Cuinneagáin. Along with instrumental lessons in DIT, we attended musicianship classes, which I believe are essential for a proper education in music. I am extremely grateful for the education I received through DIT, as it laid the foundation of my knowledge for my B.Mus degree and my career as a professional musician.
For four years I was a member of Cór na nÓg, RTÉ, under the directorship of Blánaid Murphy, my almost namesake! I learned a lot about choral singing, harmonies, performance, and of course sight reading during my time with them; skills that have all been essential to my career.
Throughout school, I was involved in a lot of musical activity; playing the piano for musicals, accompanying, arranging songs and harmonies for the folk group, performing solo piano and singing. I also learned guitar, self taught with help from my Dad and from other friends that played.
During my first year of college at Maynooth (2007), I auditioned for and joined the professional vocal ensemble, Anúna. Apart from playing piano at weddings and accompanying people, this was my first ongoing involvement in a professional group. I was employed as a professional singer, and toured with the group across the Netherlands, England, Ireland, Northern Ireland, Japan, China, Belgium, and Germany. I also have recorded several albums with the group and filmed for DVDs.
After I graduated college in 2009, I taught piano for a year at the Churchtown School of Music. I also undertook freelance work around Dublin and Ireland, as a professional pianist, singer, and choral singer.
In 2010, I met The Wiggles, the Australian children's music group, whilst filming with Anúna for one of The Wiggles' Christmas DVDs. The Wiggles saw the necessary spark of creativity within me and asked me to join them as a singer, musician and performer for their Big Show Christmas tour around Australia in November and December of that year (2010). I got myself an Australian working visa and moved to Sydney, Australia. For the next two years, I toured internationally as a musician, dancer and performer in The Wiggles cast, travelling around Australia, New Zealand, Singapore, England, Ireland, Scotland, Canada and the USA. I also did a lot of recording and filming work with The Wiggles, and wrote and arranged songs and music for their albums. One of the highlights of my time with The Wiggles was performing live at the 'Carols in the Domain' in Sydney. I got to sing a top D live in front of 80,000 people!
In 2013, I moved back to Dublin and took some time off then to do some inter-railing around Europe. There's nothing like living in Australia to give you an appreciation of how close everything is in Europe! Since then, I have been back in Ireland working as a professional singer and pianist.
In 2015 I joined 'Lassus', a professional choir specialising in Lassus music. We have recorded our debut album, which is to be released in 2016.
The highlights of my career have always been performing on tours.
With The Wiggles on the Canadian tour 2012, I got to dance on stage as a ballerina wearing a purple tutu; this was definitely a dream come true for me! I also got to play 'Henry the Octopus' and 'Dorothy the Dinosaur'. These characters were immensely fun to be, and very physically challenging as well. With my background as a musician, I was delighted to have the opportunity to explore the world of dance. I learned ballet and Irish dancing as a child, and I was always very fit and sporty, so I took to dancing like a duck to water. Also on tour with The Wiggles, I learned to play bass guitar and drums. The shows were wonderful because I got to use a variety of skills, and they were always changing meant we never got bored doing them.
Some of my favourite memories from The Wiggles were playing bass guitar with the band during sound check. We would play Rolling Stones, Deep Purple and even songs from Spinal Tap. This was the beginning of my education as a rock musician!
The highlight of my work with Anúna was performing acoustically in the National Centre for Performing Arts in Beijing. It's a colossal building from the outside and has one of the best natural acoustics in the world. For acapella choral music, this place is the business!
Another highlight of singing with Anúna is the response we receive from audiences. The music has a emotional depth to it that forms a connection with the audience, and this can be quite overwhelming when it happens. I remember singing 'Mo Li Hua', a popular Chinese folk song, in China, and the audience asked us to sing it again as an encore, this time joining in with us. The sound they made was incredible and the emotion of it all totally floored me! It is amazing that we could make this connection with an audience from such a different culture to ours.
I am very grateful to have a career that allows me to bring such joy and sometimes healing to people all over the world.

My current role, as a freelance musician in Ireland, involves also having a part time day job as a barista. I decided it would be wise for me to have another skill where I could pick up part time work, possibly also in different countries. I also enjoy interacting with people at the cafe. People are usually quite happy that you're serving them coffee, so it can be a lot of fun! I like the physicality of the work, it literally keeps you on your feet. I had a great cafe boss once that said we were 'serving joy to people', not unlike what I do as a musician as well.
A typical day for me involves beginning with an hour of 'promotion' work. This could be writing biographies about myself for different forums; connecting with people via emails, updating my website, using social media, researching what's going on in Dublin, etc.
Next I like to spend maybe half an hour replying to emails, paying bills, sending invoices, etc. - stuff that is essential to my work but not directly self promotion.
Then I do some practice, usually singing first, then piano. Depending on what gigs or performances I have coming up I will do more of one than the other. This can be quite intense work, especially when I'm learning new piano music, so it's nice to go outside for a walk or run in the park after my practice session.
It's also important to be physically fit for singing and playing piano, so I try to get outside or do some yoga or ballet indoors if it's raining. I also cycle everywhere (although not that fast!), which I find quite relaxing and enjoyable.
In terms of performances, I do a range of things. I sing in many beautiful venues around Ireland with Anúna Corporate. I do session work, recording vocals/instruments in the studio. I accompany instrumentalists and singers for grade exams, and also accompany various choirs for competitions and events. I sing with professional choirs for funerals, weddings and services in church. I also play piano/fender rhodes in a band called 'The Sun Collective' and we do gigs regularly around Dublin. We also record and film our songs.
I find it challenging that my income is unpredictable. To counter this, I have kept really strict accounts for a year and uploaded the information into excel so I can see patterns in how I earn and how I spend.
I also find it challenging to try to keep to a regular work schedule when every day is different. The upside to this is that things don't become monotonous.
What I find most interesting about my job, is that I actually get paid to play/sing beautiful music, and I think this is really cool! I also think it is something of great value and I feel very privileged to have the skills that I have. Like I said earlier, as musicians we bring joy and sometimes healing to people that we perform to, and that is pretty special indeed.
I love a performance where I really get in the zone and then have the audience respond in such a way that acknowledges that. So much of our time as musicians/performers is spent critiquing ourselves that we can forget how the overall effect looks. It's almost like we don't actually get to experience our own performance. The audience can act like a mirror, and suddenly you can see what you've created.