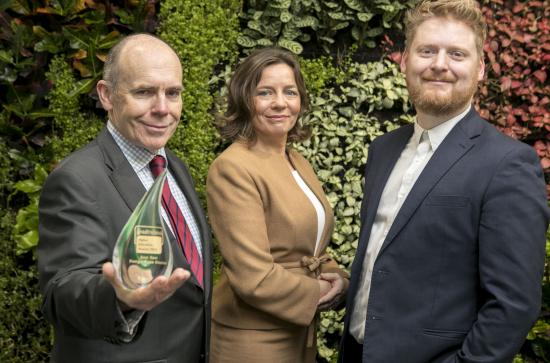 Thursday, November 29, 2018 - 12:00
Maynooth University was awarded 'Best New Postgraduate Course in Ireland' for their MSc in Design Innovation (Food), developed in conjunction with Bord Bia, at the Grad Ireland Awards on Friday evening.
Established in 2017, the course was chosen over seventeen other competitors in the category. The course aims to combine Bord Bia's insight-led approach, and Maynooth's innovation and design expertise, to meet the increasing demand from the food industry for those with skills in both areas. After an intensive induction by Bord Bia, the students are placed with a host company for 20 months, while still completing assignments to obtain their MSc. The programme is designed so that the theory students learn backs up their practical placement, equipping them to bring well developed ideas and viable change to their host companies. As part of the programme, Maynooth University also took the students on a special visit to the Nestle Innovation Headquarters in Lausanne in Switzerland to learn about how Nestle manage their global, insight-led new product development.
Speaking after the event, Dr Peter Robbins, Head of the Department of Design Innovation in Maynooth said: 'The programme we've developed with Bord Bia is unique for many reasons but chief among them is the embedding of the participants in Irish food and drink companies so that they can positively influence the practice of new product development in their host firms. They have learned best practice and we help them codify it into Irish firms to help them become world class innovators. I'm delighted for Bord Bia and for the students that the quality of this programme has been recognised by the Judges.'
Helen King, Head of Insight for Bord Bia, said, "In order for the Irish food and drink industry to achieve our ambitious growth targets, we need to proactively attract, develop and retain new talent with a range of strategic capabilities. Novel, insight-led innovations and a creative way of thinking for the food, beverage and horticulture industry are essential in order to maintain our competitive edge. This new collaboration with Maynooth University allows us to build world-class talent in the area of innovation and design thinking, complementing our existing suite of programmes which focus on marketing, sustainability and international business" The students who graduate from this programme will be the first cohort of highly-trained, innovation experts, poised to become agents of change throughout their careers.
More information is available from: Fionnuala Gilmartin Programme Manager in Department of Design Innovation in Maynooth University. (Fionnuala.gilmartin@mu.ie)