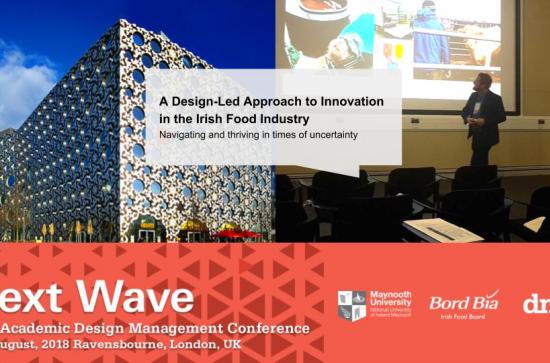 Wednesday, August 8, 2018 - 09:15
Trevor Vaugh, the programme director for the Masters in Design Innovation, presented this week at the DMI's Biennial Academic Design Management Research Conference in London. The hour-long presentation, titled 'A Design-Led approach to innovation in the Irish food sector' centered around the Masters in Design Innovation Food - a highly innovative collaboration between Maynooth University and Bord Bia.

Taking place in the Ravensbourne Design school, the talk covered the origins and structure of the programme and the vital role of design approaches to innovation in these times of great uncertainty and Hypercompetition. Trevor also presented some of the breakthrough innovation concepts created by Maynooth Design Innovation students already having impact. Trevor was joined in London by Dave Cullen representing Bord Bia.

About the DMI - The Design Management Institute (DMI) is an international membership organization that connects design to business, to culture, to customers—and to the changing world. Founded in 1975, DMI brings together educators, researchers, designers, and leaders from every design discipline, every industry, and every corner of the planet to facilitate transformational organizational change and design driven innovation.