Maynooth University Teaching Award Winners 2021-2022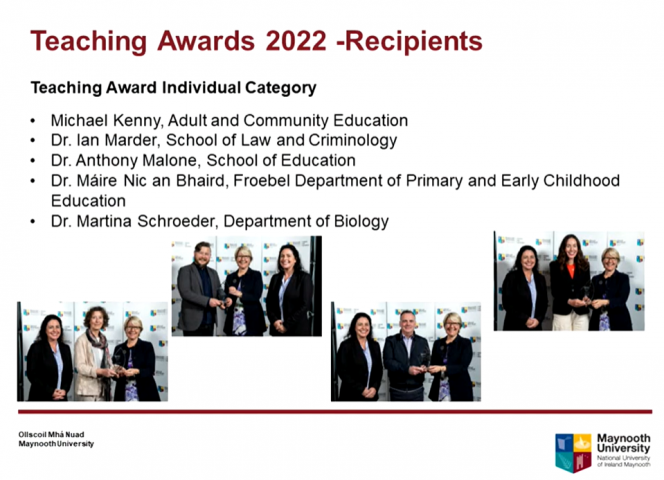 Maynooth University Teaching Awards 2021-2022
We are delighted to announce the call for nominations for the Maynooth University Teaching Awards 2021-22. The awards have been introduced to foster, recognize, and reward excellence in teaching activity which has led to particularly enriching and worthwhile learning for students. These awards aim to acknowledge the efforts of outstanding individuals or teams that contribute to excellence and innovation in teaching and learning across the university and enhance student learning.

University staff (full time and part time) who are engaged in teaching are eligible for nomination for this award. Nominees must be engaged in teaching in the University in the academic year in which they are nominated.

Staff may be nominated for the Teaching Award by current students, recent graduates, or by colleagues in the University. Nomination is via the nomination form submitted to the Chair of the Teaching Awards Committee at teachingawards@mu.ie before 17:00 Friday 31st December 2021. A nomination can be made for an individual or a team (but normally not for a whole Department). The Nomination Form, along with explanatory documents (providing further information on the process, eligibility, and selection guidelines for the award) are available below.

For additional queries, please contact teachingawards@mu.ie.
KEY DATES:
| | |
| --- | --- |
| Submission of completed nomination form deadline: | 17:00 Friday 31st December 2021 |
| Portfolio submission deadline: | 17:00 Thursday 31 March 2022. |
Documents for Submission: