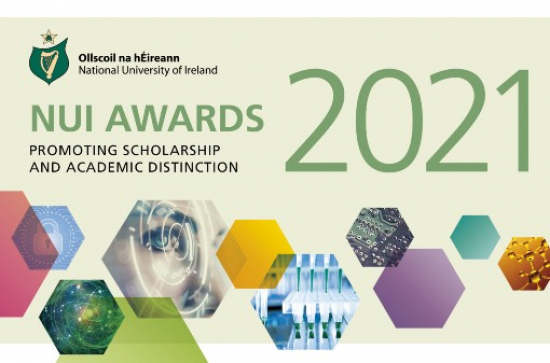 Wednesday, January 12, 2022 - 09:00
Maynooth University is delighted to congratulate the 13 recipients of the National University of Ireland (NUI) Awards 2021. The NUI awards aim to honour academic distinction and promote scholars and scholarship.
A virtual NUI Awards Ceremony will be available from 1pm today, Wednesday, 12th January, on the NUI website here. The annual Awards Ceremony is a great occasion and a highlight in the NUI calendar. It is a welcome opportunity to highlight and celebrate the achievements of those who received awards in 2021.
MU Awardees and award categories:
Fionnuala Walsh BA, PhD: Publication Prize in Irish History (ex aequo)
Patrick Heslin BSc, MSc, Ms, PhD: NUI Dr Éamon de Valera Post-Doctoral Fellowship in Mathematical Sciences
Akangshya Bordoloi BA, MA: NUI travelling Doctoral Studentship in Sociology
Kim Coogan: NUI Denis Phelan Scholarship
Matthew Birney BSc: NUI Travelling Doctoral Studentship in Observational Astrophysics
Liam Fitzgerald BSc: NUI Travelling Doctoral Studentship in Medicinal Chemistry
Tazila Ramputh BSc, MA: NUI Dr Mary L Thornton Scholarship and prize in Education (scholarship)
Sarah Byrne: Pierce Malone Scholarship and Prize in Engineering (3rd prize)
Máire Ní Churraoin: Scoláireacht agus Duais Chiste Theach an Ardmhéara sa Ghaeilge (Duais)
Megan Hoare BA: French Government Medal and NUI Prize for Proficiency in French
Aoife-Minh Stewart: Dr H H Stewart Literary Scholarship in Chinese (3rd prize)
Conor Edward Killian: DR H H Stewart Literary Scholarship in English (2nd prize)
Samuel Doyle: Scoláireacht Liteartha an Dr H H Stewart sa Ghaeilge