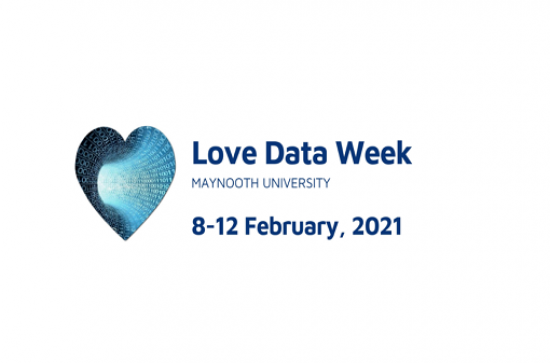 Friday, February 12, 2021 - 11:30
Love Data Week 2021 ran from 8 – 12 February.
The purpose of Love Data Week is to raise awareness and build a community to engage on topics related to research data management, sharing, preservation, re-use and library-based research data services and to highlight the importance of data and the many uses and applications arising from it. This year the theme was Data: Building a Better Future.
Maynooth University Library marked this event with a series of talks and workshops by students and by data specialists from on and off campus all showcasing different aspects of the use and engagement with data across Maynooth University, especially open data. We also hosted talks from external guest speakers on data related themes. This year the event was fully online and talks were recorded with presenter permission.
Link to the Love Data Week programme and information on all talks can be found here. Recordings for each presentation are available on the links below:
Irish Sea Level Change in the Atlantic Context - Maeve Upton, Maynooth University - Link
Estimating Modern Contraceptive Use - Moving from Models to People - Hannah Comiskey, Maynooth University - Link
Estimating Abundance in Animal Communities - Niamh Mimnagh, Maynooth University - Link
Tell us what you're doing! : using library data to inform scholarly communications - Dr Leo Appleton - Editor-in-Chief New Review of Academic Librarianship and Senior University Teacher at the University of Sheffield's Information School - Link
Open Science & Research Data Management: An Overview - Ciarán Quinn, Research Support Librarian, MU Library - Link
Ireland's Open Data Initiative – making data accessible and available for reuse - Rhoda Kerins, Head of Open Data Unit, Department of Public Expenditure and Reform - Link
What does open research mean? An introductory guide - Peter Mooney, Maynooth University - Link
The following poster presentations can be viewed here
Visualizing Importance and Interaction effects using the R-package vivid - Alan Inglis, Maynooth University
Mapping our collections: where do our rare books come from? - Hugh Murphy, Maynooth University Library