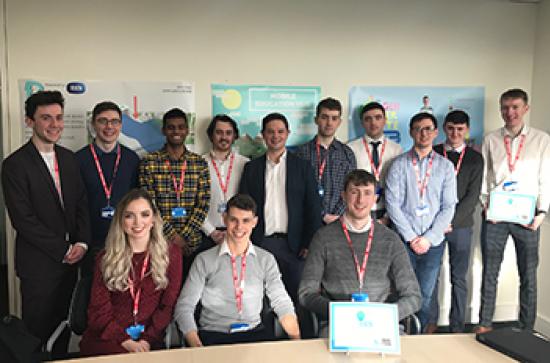 Thursday, January 9, 2020 - 15:45
Congratulations to a shortlisted group of 3rd Year BSc Product Design students from the Department of Design Innovation who visited ESB Customer Solutions' office in Santry today to present their design concepts using posters and videos.

Working on a live brief from Jeff Walsh, Senior Product Manager, New Business & Markets ESB and Maynooth alumnus, the BSc Product Design students worked with lecturer Patrick Slevin to examine some of the assumptions about Gen Z and their knowledge of energy and ESB. Using ethnographic research methods to reveal key insights, they then worked with Associate Professor and Head of Design Innovation Dr Iain Macdonald to develop creative ideas and focus on a concept for a 'cool product' or service aimed at Gen Z that could be brought to market by ESB.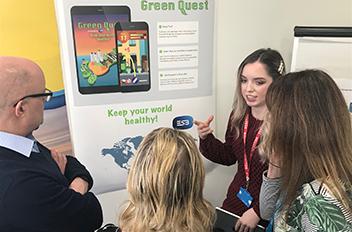 Photo:Grace Hyland Martin answers questions on her project that she worked on with Sadhbh Nealon, who is currently away on Erasmus exchange in Finland
Over 50
ESB
and
Electric Ireland
staff from Marketing, New Business and Markets, trading, HR and many senior executives including Niall Dineen, Head of Commercial at Electric Ireland, met our students and were able to question them on their research insights and design solutions. ESB and Electric Ireland staff were impressed by the quality of their creative concepts and the professional and articulate way that they presented on a rolling continuous basis for over 2 hours! After a competitive recruitment process, student Jamie Agnew begins a work placement at ESB next week.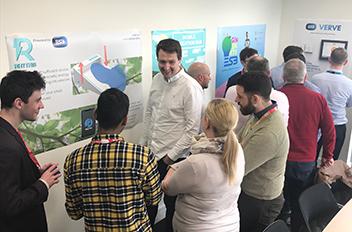 Photo:John Bierne and Jerin Sabu explain their portable energy creating design concept for Gen Z to Electric Ireland staff