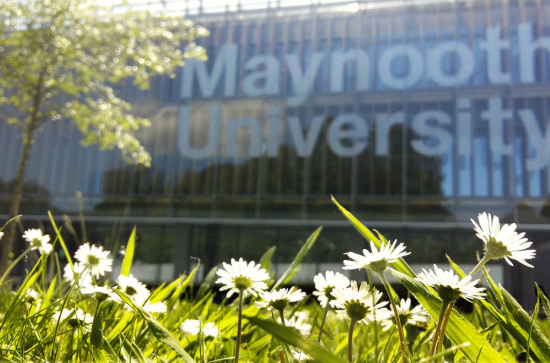 Friday, September 11, 2020 - 15:45
Maynooth University welcomes a strong demand from 2020 CAO applicants across a variety of courses, with high levels of interest in its new BSc Biological & Geographical Sciences focussing on aspects of climate change.
Maynooth will this year see its first year numbers grow to over 3,400 students, and will offer increased places in a range of disciplines, such as computer science, law, business and science.
The University will introduce an additional class group for its BEd degree, offered by Froebel Department of Primary and Early Childhood Education, bringing the number of places to 84 for this intake. This increase is in response to the Government's initiative to increase places in high demand courses, where possible.
There has also been strong interest in the new BSc in Biological and Geographical Sciences degree, which offers students the opportunity to study various areas of climate change, ecosystems, landforms, and how human activity impacts our ecosystem locally and globally. This degree is offered by two academic departments of international repute.
Commenting on the CAO first round offers, Professor Philip Nolan, President of Maynooth University, said: "We look forward to welcoming our new students for the academic year 2020/2021. We are conscious that this has been an especially difficult year for Leaving Cert students, many of whom are now embarking on a new and exciting journey through third-level education.
"We have worked hard to provide students with an engaging and safe education this coming year, with a stimulating blend of on-campus and on-line learning. In choosing Maynooth University, they will join one of the leading universities in the world, with a lively, dynamic and rapidly-growing campus and a commitment to excellence in teaching and research."
"Our flexible curriculum, which allows students the freedom to specialise as they progress through their degree, and the quality of our staff, makes Maynooth University a very attractive choice for students."
Maynooth University is ranked in the top 50 global universities under 50 years old, achieving a ranking of #43 worldwide, and #1 in Ireland, in the Times Higher Education 2020 Young University Rankings. Maynooth is Ireland's fastest growing university with more than 13,000 students, including almost 1,600 taught postgraduate and professional students and over 400 research students.