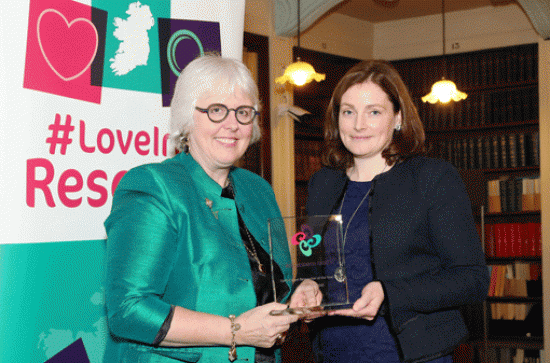 Thursday, December 6, 2018 - 09:15
Maynooth University is delighted to congratulate Dr Karen English on winning the Early-Career Researcher of the Year Award of the Irish Research Council (IRC).

Dr English was presented with the IRC Award in recognition of her research on developing 'calming' cells in therapies for inflammatory conditions such as asthma, and for immune system disorders, such as organ transplant rejection.

Accepting her award at an event held in the Royal Irish Academy (RIA) in Dublin last night, Dr English said: "I am humbled and delighted by the recognition of the work conducted by myself and my team."

Dr English is a Principal Investigator at Maynooth University's Department of Biology and head of the Cellular Immunology Lab.

"My research focuses on how we can use cell therapy, for example, in asthma patients, to try to control or re-programme the condition so that the immune system is calmed, and we can give patients a better quality of life," she said.

The body makes mesenchymal stem cells in the bone marrow which are naturally able to calm inflammation in the body. Dr English aims to make them even stronger and to use them as a form of therapy in inflammatory diseases.
Additionally, our immune systems can resist potentially life-saving operations such as organ transplants and bone marrow transfusions.

"These patients often have to take immune-suppressing drugs for life to stop that rejection. But these drugs can have unwanted side-effects, so we are always looking for new and less toxic therapies to help."

Professor Ray O'Neill, Vice-President for Research and Innovation, congratulated Dr English on her award. "Karen English is an outstanding scientist, and Maynooth University is extremely proud of all her achievements to date – now recognised through this national award by the Irish Research Council. Basic biomedical research is essential for improving human health, and it is a priority for the University to build on our strengths in this area, in order to contribute further to the scientific understanding and potential treatments for inflammatory disorders, such as asthma. The Irish Research Council, through its support for frontier research across all fields, plays a crucial role in developing superb science in Ireland, and that science base will be essential for Ireland's future prosperity." he said.
About Dr Karen English: Dr Karen English graduated with a BSc, MSc and PhD in 2008 from Maynooth University, and received a Marie Curie Fellowship to carry out her postdoctoral training at the University of Oxford. She returned to Maynooth University as a Health Research Board-Translational Medicine Research Fellow and later a Science Foundation Ireland-funded Starting Investigator. She was appointed Lecturer in the Maynooth University Biology Department in 2015. Recently she was awarded an IRC Laureate.
About the IRC Early-Career Researcher: The IRC Researcher of the Year Awards commend the very best of current awardees or alumni working in academia, industry, civic society or the public sector. One yearly award is made to an Early-Career Researcher currently working in research in an academic institution who is, or previously has been, a named awardee of the Council, and who has demonstrated an exceptional level of achievement in their field at this stage in their career.
For full details of research by Dr Karen English see Spotlight on Research
​
​