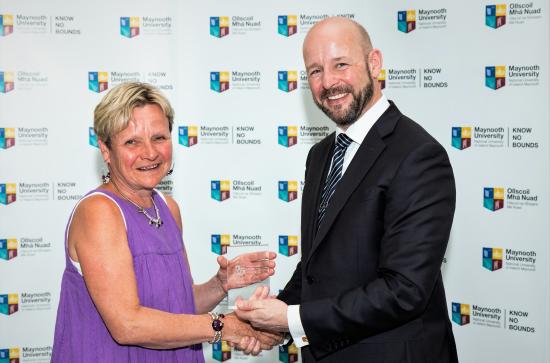 Tuesday, June 4, 2019 - 09:30
This is the second year that the university has presented staff awards to recognise, acknowledge and celebrate exceptional achievement by Maynooth University support staff, across the Administrative, Technical, Professional and Support Services, who "demonstrate the University's values in undertaking duties, with a particular emphasis on the core values of integrity & ethical behaviour, collegiality, transparency & trust, equality, inclusiveness & social justice, and dignity, respect and care for the individual".
Last Thursday (30/5/19) the staff of the Chemistry Dept. were presented with two of these prestigious awards.
Ms. Ria Collery Walsh, Senior Technical Officer, was awarded the President's Award for Service Innovation for an individual.
The group of Technical Staff were presented with The President's Award for Service Excellence for a team.
Congratualtions to all those recognised for their hard work and professionalism.