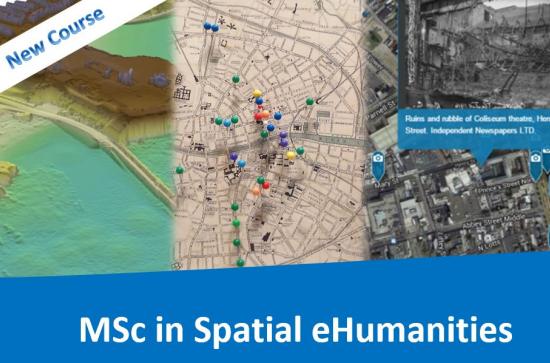 Saturday, February 13, 2016 - 00:15
Spatial eHumanities is a fast-growing dynamic interdisciplinary field at the cutting edge of 21st century research methods. It encompasses practices and traditions from a number of disciplines: in methodological terms from computer science, and geographical information science, humanities/arts, and in the academic traditions of design, cultural and heritage studies.

The MSc in Spatial eHumanities is designed to provide both a historical background and theoretical grounding to the field while providing students with solid skills in contemporary digital methods and technologies.

Students have opportunities to:
Learn how to use open source and proprietary geographical information systems (GIS) software such as QGIS and ArcGIS;
Become familiar with standards and methods common to digital humanities including XML, TEI, and Dublin Core;
Learn how to create virtual worlds and acquire an expertise in computer graphic design for cultural heritage;
Become actively involved in current Spatial eHumanities projects;
Learn how to encode literary and historical sources, as well as newer sources (such as social media) to identify and visualise spatial and temporal networks and patterns;
Gain practical experience by becoming an intern in a cultural heritage institution, a commercial organisation, or a digital spatial project;
Learn programming languages and apply these to spatial and temporal data in the various fields of the arts/humanities, archaeology, and geography.
The modules offered as part of the course are as follows (subject to change):
Semester 1
Mapping and Modelling Space and Time
Intro to Geographical Information Science
Methods and Techniques in Geocomputation
Digital Heritage: Theories, Methods and Challenges
Semester 2
Digital Humanities Practicum
3D Modelling, Analysis and Interpretation of Three-dimensional Spaces
Geographic Information Science in Practice
Special Topics in Digital Humanities
Modelling Humanities Data
MSc Thesis
*The MSc will be offered in both a full-time and part-time basis. Students can also get a diploma, if they don't want to submit a thesis.