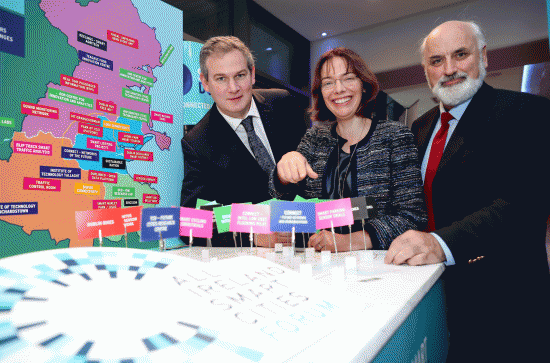 Wednesday, September 13, 2017 - 09:15
The Forum will consider the roll-out of the smart cities agenda across the island of Ireland
On Wednesday, 13 September, the All Ireland Smart Cities Forum (AISCF) along with Maynooth University gathered to discuss 'The Challenge of Smart Cities in Ireland'. This unique gathering of seven cities on the island of Ireland considered the roll-out of the smart cities agenda to date, recognising the many opportunities to grasp and challenges to overcome.
The world poses many issues for the modern city and its inhabitants. Everywhere, rapid urbanisation is putting enormous strain on natural resources and infrastructure. Climate change, growth in energy consumption, demand for food production and the expectation for more effective public services are all issues that face its inhabitants. By approaching these challenges with new approaches, embracing innovative solutions and smart technologies, cities can enhance their sustainability and competitiveness.
With technology recognised as an enabler of social and economic good, smart cities place a focus on creating environments to test new ideas, attract investment, enable service reform and promote partner collaboration.
Professor Brian Donnellan of Maynooth University and the AISCF Chair stated: "We plan to share information, to discuss initiatives that have worked in different cities and how they may work in future. We want to collaborate, to learn how to best manage approaches and the best way to govern them. This Forum isn't mandated by the government, it is seven cities across the island of Ireland joining together in a unique Forum to discover what best practice is and should be. In time, new initiatives will come but for now, this is about cities coming together to learn and to implement solutions. Cities across Ireland can become a single voice to input into policy and feed into government thinking.
"The challenges under discussion are governance, cohesive strategies to support city goals, appropriate relationships between economic development and IT, data integrity and privacy. The Forum is made up of local government officials representing Cork, Dublin, Limerick, Galway, Waterford, Belfast and Derry. Together, cities will explore common challenges related to implementing smart city policies and projects and share insights.
"But let's not make the mistake of removing the citizen from the equation. The main principles of Smart Cities and of forums like the one being held today is to be citizen-focused. Any forum on Smart Cities should adhere to the principle of the city user as consumers and that is our main purpose – how to make life better for the inhabitants of these modern cities."