Friday, December 8, 2017 - 14:15
The Department of Design Innovation would like to congratulate our five 3rd year product design teams on their win at the 2017 W2W / Orangebox national design competition. Of the75 entries from across Ireland, Maynooth University was the strongest represented, winning outright and also the runner up place and 3 highly commended places. This is the 2nd year in a row that Maynooth have won this competition.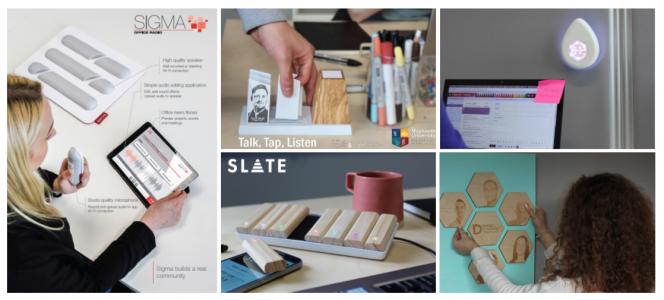 Egle Urbanoviciute and Kevin Corley took first price with their entry 'Sigma' – A concept device for building stronger community in modern offices through the medium of hyper-local radio.
Reflecting after the award ceremony, module lecturer
Trevor Vaugh
said
"Yet again our students have shown great energy, imagination and talent in producing concepts that give us a glimpse at a very human centered future. The temptation is always there for a young designer jump to an obvious, purely digital solution, so these finalists have demonstrated some really mature thinking and vision"
Simon Dennehy, one of the competition judges commented on the winning entry
"The bravery, big-picture thinking and execution of this made the first place a very easy decision, despite us all having to question ourselves and re-evaluate what we had expected from the competition.
The idea of offering large companies, or smaller companies that work within a larger group, a space to create their own radio channel is a beautiful idea. It allows teams of workers, who might otherwise not have a voice, to champion their stories, goals and successes to the rest of their organisation. It allows newcomers to an organisation to be interviewed and introduced to everybody, without having to personally meet everybody
.
For messaging, team building, and morale boosting, Sigma has been a really worthy winner"
Design Innovation Maynooth would like to congratulate all of our students on representing their Department and the University so well. "Our students put in an extraordinary effort and a little magic, and this was clearly recognised by the judges. The work presented was mature, highly Innovative and so well executed - we expect to see a number of the projects progress further" commented Vaugh.
The exhibition of finalists will tour all of the represented college campuses in the new year, and the Department of Design Innovation would like to invite anybody interested in the future of the office to visit when it arrives. If you would like more information on this competition or any of the winning projects you can contact
Trevor Vaugh
in the Department of design Innovation.
The five shortlisted teams from Maynooth University were;
Sigma - Egle Urbanoviciute, Kevin Corley (Winner)
Ogham - Gerard Duffy, Cathal Curran (Runner-up)
Eolas - Aoife Byrne, Suzanne Ward (Highly Commended)
Hive - Niamh Loughnane, Carla Duffy (Highly Commended)
Slate - Ben Hageman, Cuirthir Ó Brannagáin (Highly Commended)