Counselling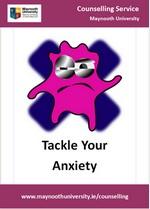 Click here to download our
Anxiety Leaflet
Click here to download our Grief Leaflet (PDF)
The use of books for therapeutic purposes is known as bibliotherapy. People who want to learn how to manage their own emotional and psychological problems often find it helpful to have material to read. It can often be an initial point in understanding and treating mild to moderate mental health issues or personal difficulties. Reading can and often complements the work being carried out with the therapist or counsellor. Please note it is not a substitute for getting professional help.
This collection includes books on many of the common psychological problems that people experience. Counselling Service-Recommended Reading
National Helplines


Helpline
Telephone
Hours
Alcoholic Anonymous
Leinster Service: 01 852 7000
Dublin Office: 01 842 0700

Mon-Fri. 9.30am-5pm
Aware
1890 303 302
Bodywhys
1890 200 444
CARI
1890 924 567
Mon-Fri. 9.30am-5.30pm
Citizens Information Center
1890 777 121
Mon-Fri. 9.30am- 9.00pm
Crisis Pregnancy/Positive Options
Cura Helpline: 1850 622 626
Pact Helpline: 1850 67 33 33
Drugs & HIV Helpline
1800 459 459
Mon-Fri. 9.30am-5pm
Dublin Rape Crisis Centre
1800 778 888
Gamblers Anonymous
01 872 1133
Garda Confidential Helpline
1800 666 111
National Cancer Helpline
1800 200 700
Niteline
1800 793 793
Schizophrenia Ireland/ Shine
1890 621 631
Samaritans
1850 60 90 90
STI Clinic: GUIDE Clinic:
St. James Hospital, Dublin 8
01 416 2315
Emergency walk-in service available
STI Clinic: Mater Hospital, Dublin 7
01 8032 063
Walk-in service Monday & Wednesday PM
Free On-Line Self -Help Programmes
MOOD GYM
Moodgym is a free, innovative, interactive web programme designed to prevent depression. It teaches the principles of cognitive behavioural therapy over the course of five modules. It includes assessments on anxiety and depression, the relationship between thoughts and emotions, relaxation and meditation techniques and feedback assessment.
www.moodgym.anu.edu.au/
MOODJUICE
This site offers information and advice to those experiencing troublesome thoughts, feelings and actions. From the site you are able to print off various self-help guides covering conditions such as depression, anxiety, stress, panic and sleep problems.
www.moodjuice.scot.nhs.uk/
LIVING LIFE TO THE FULL
Living Life to the Full is a free online life skills course made up of several different modules designed to help develop key skills and tackle some of the problems we all face from time to time.
www.livinglifetothefull.com
E-PUB
E-pub in an interactive web-survey that allows you to enter information about your drinking patterns and receive feedback about your use of alcohol. If you're curious about the part alcohol is playing in your life, how alcohol might be impacting on your health and behaviour, or how much alcohol is costing you in a year then log on and find out. The assessment Take the e-PUB now
A series of Self-help booklets on various Mental Health Topics. These booklets provide key cognitive behavioural techniques to help manage common mental health problems.