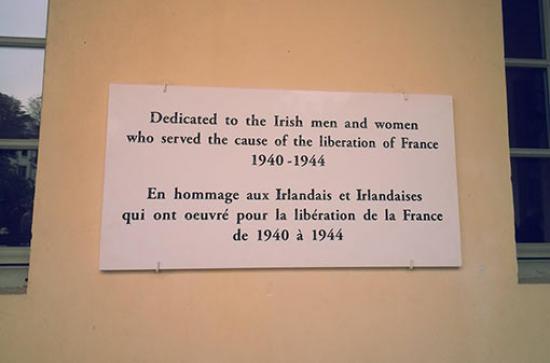 Friday, October 10, 2014 - 00:00
A plaque has been unveiled to commemorate Irish men and women who served in the French Resistance during WWII, following research from a Maynooth University lecturer.
Dr David Murphy, a Maynooth University Department of History lecturer, undertook research in French archives between 2006 and 2008 and began compiling a list of Irish men and women who had died in the conflict, identifying 50 names.
"It was in many ways very moving being able to shed light on the wartime careers of these incredible Irish men and women. All of their stories were filled with danger and it is interesting to note how, after the war, they just returned to their normal lives.
"The majority never spoke of their wartime experiences again. On Monday [6th October] we got to unveil a plaque in their memory in Paris and also spoke their names aloud for the first time as a group," Dr Murphy said.
The monument was unveiled at a ceremony in the Irish College in Paris last week.
Some of the Irish contingent in the Resistance helped downed airmen escape and they took part in intelligence and sabotage operations. Many were captured, tortured and sent to concentration camps while three died or were executed and two were disappeared by the Gestapo.
Dr Murphy came across this material by accident while carrying out research on another subject. There had been no research in this area previously.
Approximately 50 per cent of the Irish members were women.
These Irish men and women were found to have been serving in mainland France, the French colonies in North Africa and also in the French colonies in Indochina (Vietnam) and New Caledonia in the Pacific.
The Irish Ambassador to France Geraldine Byrne Nason, an alumnus of Maynooth University, also spoke at the event.