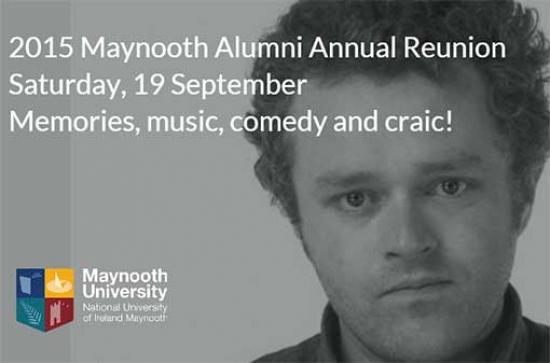 Saturday, September 19, 2015 -

18:30

to

22:00
Phoenix Plaza, North Campus and SU Bar
Get your tickets for this event on http://alumni-network.maynoothuniversity.ie/2015-maynooth-alumni-annual-reunion
Join us for the first annual Maynooth Alumni Reunion event on Saturday, 19 September. Come back to campus to see what's changed, meet former classmates, reconnect with old friends and just enjoy an end-of-summer evening on your old stomping grounds.
We'll start with an outdoor bbq in the Phoenix Plaza (weather permitting of course!) and then head inside the Students Union Bar for an evening of memories, music, comedy and craic. Actor, writer, comedian and 1989 alumnus, Pat McDonnell (you know him from Naked Camera, The Savage Eye and his role in Father Ted as Eoin McLove) will share his Maynooth memories and talents in a special set just for Maynooth alumni. Pat will be followed on stage by 2015 Voice of Ireland, runner-up Emma Humber, Maynooth student. Getting the party started and keeping it in full swing will be students of the university's Department of Music.
Tours of the newest building on campus, the state-of-the-art Eolas building which opened this summer, will be available on the night. This new hub for Information, Communication and Technology (ICT) activities on campus includes a business incubation centre, MaynoothWorks, as well as laboratory, office and networking spaces.
To get your tickets for this event, visit http://alumni-network.maynoothuniversity.ie/2015-maynooth-alumni-annual-reunion
Cost: €15 (Includes food and wine/soft drinks. A full cash bar will be available in the SU.)
*Special €10 rate for recent grads (Classes of '15, '14, '13, '12, '11)
Bring someone you know (or love!) and make it a night to remember.
Please note, the Maynooth Alumni Summer Soirée, our annual cultural evening for Maynooth alumni, will resume in May 2016. Be on the lookout for details in the year ahead.