Call to the Maynooth University Access Programme (MAP) any day Monday to Friday from 12pm - 2pm for the MAP Advisory drop-in hours.
You can get support, find out information, have a chat or discuss a concern.
You'll be seen on a first-come first-served basis when you arrive at the MAP reception desk (pictured) in MAP Lodge, North Campus, Maynooth University.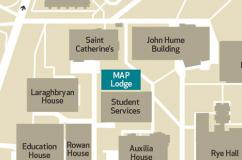 One of our MAP Advisors will be available to meet with you to discuss any query you may have, including for example, the DARE, HEAR and Mature entry routes, registering with the Disability Office, availing of examination accommodations, accessing personal or academic supports, or any general enquiries you may have. This is the place to get your questions answered!
If you can't make any of the drop-in times, you can also contact MAP by email (access.office@mu.ie) and phone (01 7084600).