MAP My Way
The MAP Student Advisory Service runs MAP My Way, an ongoing support over the course of the semester to aid the smooth transition of new students to university. MAP My Way is delivered via targeted sessions that are designed to create a positive first-year experience by supporting students to:
build connections, make friends and get involved in the wider social aspects of university life,
develop strategies to engage with key university supports as required,
cultivate key academic and organisational skills needed to succeed at Maynooth University.
MAP My Way Welcome Week (18-22 September 2023)
MAP My Way begins during Welcome Week. The Welcome Week activities have been designed to support students who have come through the MAP entry routes to connect, grow and belong at Maynooth University and to create a positive experience of education and personal growth. MAP My Way is underpinned by the values of equity, equality and diversity, social inclusion and social justice.

During your day on campus in Welcome Week, MAP students are invited to attend:
Conversations with MAP entitled Getting Ready for University Life at either 11am-12pm or 2pm-3pm) in TSI Lecture Theatre 3 (see map below)
MAP Information Stand: Gemma, Bridget and Emer from the MAP Team are here to welcome you, assist you with applying for your MAP supports, and answer any questions you may have about starting at University.
MAP Space of Connection and Belonging a social space outside of the TSI building with facilitated activities of getting to know one another and building relationships with MAP Ambassadors and other students. Look for the balloons and friendly faces and come say hi!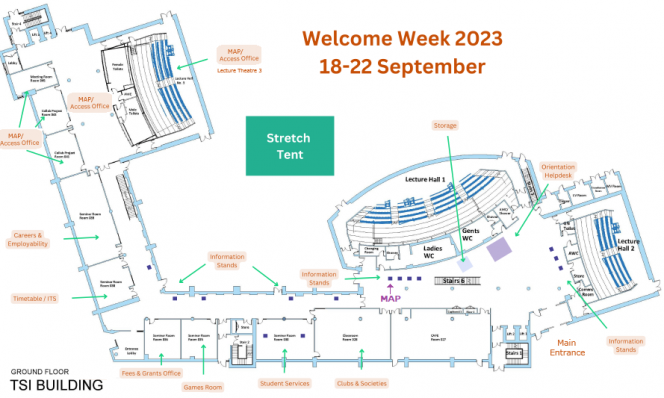 If you don't get to all of these on the day you're scheduled to be on campus, you are welcome to return on another day during the week.
Alternatively, drop by MAP Lodge, North Campus during the MAP Student Advisory drop-in hours every weekday from 12pm-2pm.
MAP My Way (27 September - 7 December 2023)
Following Welcome Week, MAP My Way continues throughout the semester with a range of fun, interactive, useful weekly get-togethers with MAP Ambassadors and students. Each week will focus on different information and skills that you can develop to succeed at University. These include connect with MAP, get started with the MILO learning platform to support writing assignments, use the Maynooth technology tools and mind your mental health.
Check back here regularly to find out what's happening in MAP My Way each week!