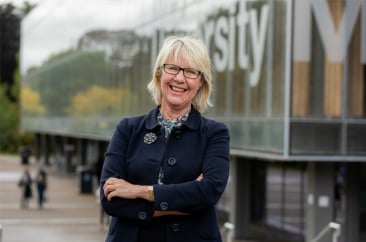 Maynooth University President, Professor Eeva Leinonen
Maynooth University warmly welcomes Professor Eeva Leinonen, who takes office today as the new President. She is the first female president of Maynooth University.
Professor Leinonen has held the role of Vice Chancellor of Murdoch University, since 2016, having previously been Deputy Vice Chancellor (Academic) at the University ofWollongong, New South Wales, Australia. Prior to moving to Australia in 2012, she was Vice Principal (Education) at King's College, London.
Originally from Finland, Professor Leinonen has a background in linguistics and psychology. She engages with researchers in Finland and Italy in ongoing research into pragmatic language development in children and contextual processing deficits of children and young adults with autistic spectrum disorders.
Professor Leinonen said she was honoured to have the opportunity to lead Maynooth University in the next stage of its development. The new President said that Maynooth University can play a significant role in next-generation Ireland.
"High-quality innovative education, world-class research that has positive societal impact, and transformational educational opportunities for all who can benefit irrespective of background are hallmarks of Maynooth University and resonate closely with my approach to university education,"she said.
"Next year Maynooth celebrates its 25th anniversary. This affords us an opportunity to pause, reflect and plan for the years ahead. Due to its rapid enrolment growth, its diverse student population, its youthful and collegial attitude toward multi-disciplinary research, and its strengths in fields that are critical to Ireland's economic future, I believe Maynooth University can play a significant role in preparing for next-generation Ireland."