MAYNOOTH UNIVERSITY ORIENTATION LEADERS 2023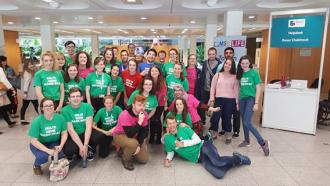 ARE YOU PASSIONATE ABOUT MAYNOOTH UNIVERSITY?
LOOKING FOR A WAY TO MAKE A POSITIVE IMPACT?
WANT TO BE PART OF A GREAT TEAM?
We may just have the opportunity you have been looking for.....

Orientation Leaders serve as the face of Maynooth University to all incoming first years.

As a representative of Maynooth University, Orientation Leaders (OLs) will work with groups of first-time students in order to assist them in their transition to a university setting. More specifically, OLs will acquaint students and their families with the academic, cultural, social, and physical environment at Maynooth University.

OLs will assist with all orientation events (online and in-person) and play a vital role in helping to facilitate the adjustment of our new intake of students to the campus community. These positions are a wonderful opportunity for interested students to gain key skills such as leadership skills, etc.